H&D Editor Mark Cotterill, aims to bring down Labour's "Red Wall" in Ribbleton!
On Saturday (May 1st) we had two leafleting teams out. Team one completed Ribbleton (City Council) ward with our second election leaflet, and team two got a good chunk of Preston South East (Lancashire County Council) Division, with the second election leaflet done – see copy attached.
In Ribbleton Ward we finished off both the Brockholes Bow/Fishwick area and the Farrington Park/Bowness Estates. And in Preston South East Division we leafleted all of the massive Callon Estate (a White working class area – right next to a very enriched area).
Afterwards both teams met up, to leaflet the final couple of streets around the Blessed Sacrament /Farringdon Road area of Ribbleton ward.
Team One finished up having a few well deserved pints in the local ward pub, where H&D Assistant editor Peter Rushton got the first round in!
We will be going out leafleting again in Ribbleton ward/ Preston South East Division on Tuesday/Wednesday – depending on the weather, with our final "reminder" leaflet – see attached. So if you can spare a couple of hours and give us a hand, it would be very much appreciated. Just let us know which day/time you can help.
You can email me us at – heritageanddestiny@yahoo.com – or ring Mark on – 07833 677484. Please try and help if you can.
It's looking very close now in Ribbleton Ward, with Labour just about in front, but with one more push we can bring that "Red Wall" tumbling down! However, in Preston South East, its going to be much harder as three-quarters of the Division is now very enriched now, with English being the second language on many streets. Still we are giving it a good go.
More or less all the pubs in Preston South East have now closed down, with the famous Acregate Hotel, on New Hall Lane, a former Boddingtons alehouse, closed down in 2010, set to become an Islamic Education centre. Just down the road towards the city centre, the former Belle Vue Hotel is now an East European super market.
The other parties (Conservative, Lib-Dem and Green) have not put out a single leaflet (as far as we can tell) in either Ribbleton or Preston South East – or even set foot – in the ward/division – incredible, but sadly true. They just take their voters for granted.
If you can't help out with our campaign physically, for whatever reason (job, family, or you just live too far away) then you can still help the campaign by sending a donation towards the campaign costs (send to; Mark Cotterill, 40 Birkett Drive, Ribbleton, Preston, PR2 6HE – write on the back of the cheque/postal order – Election donation – if you wish to send a donation by Bank transfer thats fine too – call (07833 6774840 or email (heritageanddestiny@yahoo.com) us for the details.) Every pound helps.
The election count for Ribbleton Ward (Preston City council) will be held on Friday morning/lunchtime. And the count for Preston South East Division will be held on Saturday morning. As soon as we get the results, we will post them up on the H&D website.
Thanks in advance for your help and support, it's very much appreciated.
I received this email over the weekend from a comrade in Leeds.
Sad news today, that an old comrade and NS activist Beefy Taylor from Leeds died today of cancer. He'd been very ill for a while and this news has brought tears to my eyes as did seeing him when he was ill. I will not remember Beefy's last few months, I will always remember him as a brave street fighter for the National Front, one who terrified the reds and flew our flag wherever he wanted to. Rest in peace comrade Beefy, see you in Valhalla!

KW – Leeds, Yorkshire.
"Beefy" died of cancer, in a hospice in Headingley, Leeds this weekend, aged only 52. He was an active nationalist in his native Leeds, for almost all his adult life.
Keith – known as Beefy to most of his friends (for obvious reasons if you knew him!) – was the younger brother of Pete, a former Leeds NF branch organizer in the 1980s, and came from a real family of nationalists. His father Bob (who will be better known to nationalists from outside Yorkshire) ran Leeds branch for many years and his mother, sister Karen, sister-in-law, and brother-in-law also served on the Leeds committee at times over the years – a real family of Leeds nationalists.
I knew Beefy's brother Pete better, as for a couple of years Pete was stationed in Plymouth, with in the Royal Navy; at the time I was South West organizer for the NF. Pete would travel up from Plymouth to Torquay/Exeter to meet us for NF activities. Pete served in the Royal Navy for nine years and served in the Falklands War.
Beefy travelled down from Leeds to Exeter once to take us on at football! A Leeds NF XI played a Devon NF team. I can't remember a whole lot about the game, which took place on a proper rented football pitch, apart from the fact that Leeds NF (like Leeds United!) were not the cleanest of teams, and not many of our side wanted to tackle Beefy! As you would expect Leeds NF won, but we didn't hold that against them and enjoyed an enjoyable few drinks with them afterwards.
Beefy and Pete sold nationalist papers for many years in Leeds city centre and also at Elland Road, home of Leeds United F.C., every home game. And like many nationalists they were regulars at Elland Road until they started signing loads of black players and getting involved in anti-racism campaigns.
In fact Pete wrote to the club to object. The club said they didn't want support like his and offered to refund his season ticket. A man of principle he took them up on their offer, but he couldn't bring himself to support any of Leeds' West Yorkshire rivals so he started travelling to Scarborough to support the local team there – Scarborough Athletic. Two years before he died he moved to Scarborough where he continued to support the football team and also helped the local BNP group to get off the ground.
Beefy however stayed in Leeds, and not being a big fan of Nick Griffin and his modernising, kept out of the post-John Tyndall BNP for the most part. He still supported JT and was there outside the Court, for the famous Race Hate trial in Leeds, shortly before JT died. I remember being in the pub afterwards with Beefy, JT, Richard Edmonds and myself all having a drink and going over the day's events.
Beefy was a good nationalist. He will be sorely missed.
A full obituary to Keith Taylor will appear in a future issue of Heritage and Destiny magazine.
Mark Cotterill
Those readers who attended this year's John Tyndall Memorial Meeting in Preston will remember the reference by Andrew Brons to an NF member – Terry Denville-Faulkner – who used to sell party literature at the BBC!
We have since heard that the intrepid nationalist in question, Terry Denville-Faulkner, died on Monday 26th October. In 1976 he was NF candidate in a high-profile parliamentary by-election in Carshalton, polling 1,851 votes (4.6%).
At the 1979 general election he contested the same constituency, but in common with the rest of the party's candidates his vote declined substantially as Tory leader Margaret Thatcher succeeded in stealing the NF's clothes to portray her party (falsely) as anti-immigration: Terry Denville-Faulkner's 1979 vote was 919 (1.8%).
Finally in 1983 with the nationalist movement divided and the NF on the verge of a near-terminal split, he fought Twickenham (pretty much a no-hope area for nationalists) polling 234 votes (0.5%).
Most remarkably throughout his active campaigning for the NF, Terry Denville-Faulkner maintained a successful career as a stage, film and television actor. His professional name was Terrance Denville.
His last television appearance was in the BBC comedy series Miranda in 2010, and he appeared in nine episodes of Doctor Who between 1968 and 1974.  In 1995 he had a part in the James Bond film GoldenEye.
Had more Britons shown the courage and commitment of Terry Denville-Faulkner during the 1970s, Britain would be a very different place.
Video footage is now online from the 10th John Tyndall Memorial Meeting, organised by Heritage and Destiny in Preston, Lancashire on 10th October 2015.
A DVD will be available soon: for details email heritageanddestiny@yahoo.com
[spacer height="20px"]
135 nationalists from a wide spectrum of parties and movements attended the John Tyndall Memorial Meeting in Preston, Lancashire on October 10th 2015. All four nations of the United Kingdom were represented with speakers and audience members from England, Scotland, Wales and Northern Ireland, and we also welcomed visitors from the Irish Republic, Canada, Italy and the United States.
[Video links to follow.]
John Tyndall, former chairman of the National Front during its greatest era of the 1970s and founding chairman of the British National Party from 1982 to 1999, died ten years ago on 19th July 2005.  The meeting opened with a minute's silence in memory of JT and nationalist comrades who have died during the past 12 months, including H&D subscribers Walter Carr (a veteran colleague of JT's in the NF and BNP) from the West Midlands, and Leslie Brannan from Basingstoke, Hampshire.
[spacer height="20px"]
Meeting chairman Keith Axon opened the proceedings with a call for nationalist unity, and the rebuilding of the 'broad church' nationalism represented during the best years of both the NF and BNP. This call for unity was picked up by several speakers, and indeed embodied in the composition of the audience, which included a broader range of nationalist comrades than ever before.
[spacer height="20px"]
Our opening speaker was Andrew Brons, presently chairman of the British Democratic Party, who was Member of the European Parliament for Yorkshire & Humber from 2009 to 2014 and chairman of the NF from 1980 to 1984.  Andrew reminded us that JT had not only forged two political movements shaking the political establishment, and edited the monthly nationalist journal Spearhead for 35 years – a prodigious feat of energy and organisation, but also had produced original insight into political philosophy and economics.  Andrew drew our attention to JT's book Beyond Capitalism and Socialism, which offered insights and remedies for Britain's national crisis. Later in life JT regretted certain errors of his earliest years in politics, such as adopting (illegal) political uniforms, which many years earlier Benito Mussolini had warned Sir Oswald Mosley would be a mistake in Britain.
Nevertheless the core of John Tyndall's political ideology remains embodied in today's British Democratic Party – the perception that different cultures are created by different peoples, as opposed to the opposite and politically correct deception that peoples are formed by cultures.
[spacer height="20px"]
Our second speaker was Max Musson, co-founder of the Western Spring website.  Max was a long serving activist and organiser in the NF and BNP, previously in Stoke-on-Trent and latterly in the Bedfordshire area. He worked closely with JT in organising venues for the BNP's annual rallies, a tremendous task due to determined efforts by opposition forces to deny the party access to hotels and conference halls.  Despite electoral experience dating back to the mid-1970s, Max now sees elections as a waste of time, given the huge disparity in resources between nationalists and our opponents.  The Western Spring project involves not only inculcating nationalist ideas but building an economically viable and self-sufficient structure which will allow us to be a credible alternative to the establishment.  Check the website for details! (Max has now posted parts of his speech online, including apposite quotations from John Tyndall's The Eleventh Hour.)
[spacer height="20px"]
Tess Culnane was unfortunately prevented by illness from attending, so our next speaker was Francesco Fontana, a veteran Italian racial nationalist from Turin who volunteered to fight with the Ukrainian independence movement Pravi Sektor (Right Sector).  Francesco gave a controversial account of the anti-imperialist struggle: he sees Putin as an ally in fighting Islamic State and bolstering the Assad government in Syria, but as the enemy of European resistance in the Ukraine.  Moreover from a racial point of view the old Soviet Union encompassed many non-Europeans from Central Asia, many of whom are still around in today's Russian Federation.  Ethnic Russians are of course our fellow Europeans; Asiatics are not!  H&D has previously published articles from a pro-Putin standpoint so were happy to redress the balance.  We can see that the Ukraine issue, and the broader question of Putin's Russia and its influence, can prompt different views among nationalists and are happy to present the full range of opinion in our movement.
[spacer height="20px"]
[spacer height="20px"]
[spacer height="20px"]
[spacer height="20px"]
[spacer height="20px"]
[spacer height="20px"]
We then took a lunch break, allowing our audience to browse among many stalls from organisations including Heritage and Destiny, British Voice, British Democratic Party, British Movement, A.K. Chesterton Trust / Candour, Western Spring, Preston Loyal, New British Union, Northern Patriotic Front, Church of the Creator, Telling Films, Counter-Currents / Arktos Press, Blood & Honour, Yorkshire Forum and Heretical Press / Historical Review Press.  Thank you to our hosts for providing an excellent buffet.
[spacer height="20px"]
[spacer height="20px"]
[spacer height="20px"]
After lunch our meeting chairman Keith Axon conducted an auction of nationalist literature and memorabilia donated by H&D subscribers and supporters.  We then heard brief speeches from three guests: Gordon Wilson from Glasgow, national officer of New British Union, the organisation taking the ideas of Sir Oswald Mosley into the 21st century; Michael Cook from Pennsylvania, USA, who brought us greetings from the great European diaspora across the Atlantic, and revealed the truly shocking oppression exercised by the government in the "land of the free" against racial nationalists, notably the imprisoned Rev. Matt Hale of the World Church of the Creator, now the Creativity Movement; and Benny Bullman representing the world-renowned nationalist music organisation Blood & Honour, founded by the great Ian Stuart from Poulton-le-Fylde, just a few miles from our meeting venue in Preston.
[spacer height="20px"]
Our next speaker was Richard Edmonds, a senior colleague of John Tyndall on the Directorate of the National Front and later as National Activities Organiser of the BNP – most famously as proprietor of the BNP's bookshop and headquarters in Welling, Kent which was received worldwide publicity after the party's first councillor Derek Beackon was elected in 1993.  Richard Edmonds is now a member of the National Front Directorate.
Richard quoted the French dystopian novel Camp of the Saints by Jean Raspail, which forty years ago predicted the tide of alien refugees now threatening to overwhelm Europe.  Only last week the British Home Secretary Theresa May described the threat to Britain from mass immigration: as Richard pointed out, she and other mainstream politicians have been rather slow to recognise this threat, which the NF has been warning about for decades.
The challenge to our corrupt establishment from newly elected Labour leader Jeremy Corbyn was seen by Richard as another positive development: in particular the long overdue call for withdrawal from NATO, whose incessant interventions and provocations in wars around the world have helped create the 21st century refugee crisis.
[spacer height="20px"]
Next up was another movement veteran – Steve Frost of British Movement, who was right-hand man to the late Colin Jordan, Britain's foremost national socialist.  Steve recalled that Colin Jordan and John Tyndall had been close colleagues for many years, and remained in regular communication long after they had moved into separate areas of political struggle: JT involved with successive political parties, while after a brief appearance in the electoral arena, CJ concentrated on the development of a national socialist ideology.  This ideological challenge has never been more relevant, with the very existence of Europe and Europeans now under threat from cultural pollution, racial miscegenation and literal physical invasion. BM stands for uncomprising resistance to this betrayal.
[spacer height="20px"]
Jez Turner of London Forum was our penultimate speaker.  He reviewed an exciting year for nationalists, which included the two White Man Marches in Newcastle and Liverpool, and the outstanding victory over the 'anti-fascist' mob in Dover, at a rally organised by the National Front and supported by several other groups.  Jez's own London Forum came under a remarkably hyped level of attack from the Mail on Sunday and Searchlight magazine, a curious alliance of the Tory press and old-style Jewish Communists.  He has also built international contacts and spoke at a recent Golden Dawn rally in Greece.  Closer to home, an example of the treacherous double standard that we face was exposed by the march against the Shomrim, an officially recognised and sponsored Jewish police force.
[spacer height="20px"]
After his address to the meeting, Jez was presented with a commemorative badge by a fellow veteran of the Royal Corps of Signals.  While veterans were celebrated inside the meeting, assorted friends of IRA terrorism were making threatening phone calls and using social media to put pressure on the meeting venue.  One renowned 'anti-fascist' / Irish Republican keyboard warrior even took time to publish news on Twitter about H&D's Peter Rushton collecting guests in a car from Preston station.  Quite why this was regarded as an important item of news to be broadcast on the World Wide Web is a mystery!
[spacer height="20px"]
Mark Cotterill was then called by meeting chairman Keith Axon to say a few words of thanks to all those who had helped make the event possible, especially our very efficient security team from the British Movement.  Lancashire Police had done their best to sabotage the event and provoke violence and disorder, by deliberately placing another group of demonstrators in a pub on the same street only 200 yards from our venue.  As anticipated, this event which was deliberately staged in the same area of the same city on the same day provoked considerable unrest, but our meeting was able to proceed unimpeded and with no danger to our audience – no thanks to Lancashire Police.  Mark thanked everybody for attending and supporting this year's event, which was a great success and had attracted yet another record attendance.
[spacer height="20px"]
Peter Rushton was the meeting's concluding speaker.  He paid tribute to two welcome legal victories for nationalists in the past few weeks: the dropping of all charges against the Newcastle marchers who were disgracefully arrested for burning an Israeli flag in March this year (two of whom, Michael Woodbridge and Garron Helm, were present at the meeting); and the long overdue release of the German lawyer and political philosopher Horst Mahler, who has at last been freed after serving more than six years in prison for political crimes.
The Orwellian suppression of truth and justice across Britain and Europe is finally being challenged. Moreover the destructive liberal "consensus" represented by David Cameron's ruling Conservative Party is increasingly exposed as a betrayal of Britain's heritage: social liberalism's cancer has eaten away or moral and cultural foundations, most obviously through mass immigration, while the simultaneous "free market" liberalism of deregulated international capitalism has subverted our economic foundations.
[spacer height="20px"]
Meeting steward Ken Shapcott then conducted a raffle, assisted by a young lady from the audience, and drew the meeting to a close.  He thanked all those comrades who even if unable to attend had sent donations and/or raffle prizes to help make the John Tyndall Memorial Meeting 2015 such a great success.
[spacer height="20px"]
Check back here soon for links to video from the meetings speeches, which in a week or two's time will also be available on DVD.
This year's John Tyndall Memorial meeting is again being organised by Heritage and Destiny magazine and will be held in Preston, Lancashire on Saturday October 10th at 1pm. If you wish to attend – please call our office number(s) – 07833 677484 or 07747 373946 – for full details and directions to the venue (which will be just outside of Preston city centre).
The meeting which will be chaired by former BNP West Midlands organizer Keith Axon, will have some great speakers including:
Richard Edmonds (National Front activist)
Tess Culnane (British National Party)
Stephen Frost (British Movement National Secretary)
Andrew Brons (former MEP, now British Democratic Party)
Jez Turner (London Forum organiser)
Francesco Fontana (veteran Italian nationalist)
Max Musson (Western Spring)
Peter Rushton (Heritage and Destiny deputy editor)
A full list of speakers will be announced in the next bulletin and update here – so keep checking! We shall also be welcoming a guest speaker from the USA.
The doors open at 12 noon and meeting will start at 1pm prompt.  However, can you please aim to get to Preston between 11.30am – 12 noon as we will have two re-direction points (one for those coming by car and the other for those using public transport) in operation and we want to get everybody to the meeting venue in plenty of time.
There will be literature/merchandise tables from a number of different nationalist groups at the meeting, including a massive new & secondhand book table. If you or your group would like a free merchandise table to sell your wares at the meeting please contact us ASAP as space is limited. We also need more items for the auction and raffle, so if you have anything you can donate to either please let us know – or just bring it along. There will also be a large buffet (including vegetarian); cash-bar; raffle (with some great prizes), auction and much more.
Those of you who are coming by train/coach, please book up well in advance, or else all the cheap seats will be gone. Likewise if you need overnight accommodation in Preston, book now to get the best deals (call our office for advice on the best hotels and B&Bs). If you are flying in the nearest airports are Manchester and Liverpool, both have direct trains to Preston.
There will be two socials – one on the evening of Friday 9th for those arriving the day before – and one after the meeting has finished. We have found a great venue, which serves real ales and good food at very reasonable prices. So make sure you, your family and friends are free Saturday October 10th and get yourselves over to Preston!
If for whatever reason, you can't attend the meeting, but would like to send a donation, to help with the meeting costs instead, that would be great. Please send whatever you can afford.
Thank you once again for your fantastic support and we look forward to seeing and meeting as many nationalists as possible in Preston on Saturday October 10th.
Please make Cheques or Postal/Money Orders payable to Heritage and Destiny; and post to:
Heritage and Destiny, 40 Birkett Drive, Preston, PR2 6HE
or if you are online donate via PayPal – click here for details
Fifth Yorkshire Forum Meeting 
South Bradford area
Saturday 8th August 2015
1.pm to 6.pm
Speakers:-
Michael Lawson
Liam Kernaghan
Dr. Jim Lewthwaite
Peter Rushton
Entrance £10.00
(free entrance for those aged 25 and under)
Merchandise Stalls
Buffet High Tea and Raffle!
More Details To Follow
Tel. (01274) 604358 land line or (07876) 383636 mobile and ask for Liam
Tel. (01274) 522223 land line or (07554) 516669 mobile and ask for Jim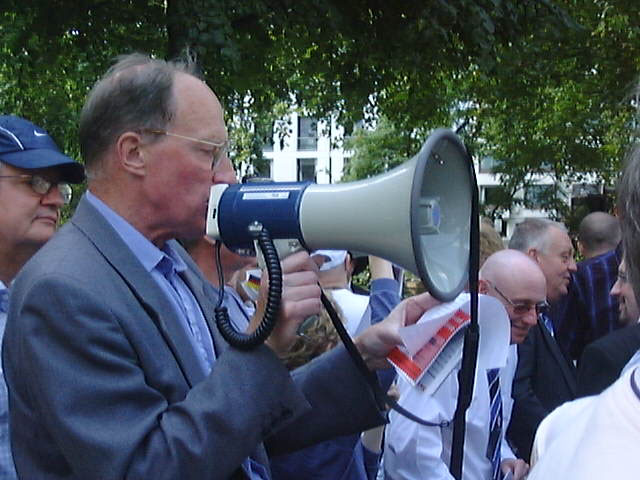 Veteran British nationalist Richard Edmonds was interviewed by Greg Johnson of Counter-Currents during Mr Johnson's recent visit to the UK, where he spoke at a meeting of the London Forum.
You can hear the interview online here.
Topics discussed include:
How Edmonds became racially conscious
The importance of Enoch Powell
His discovery of the National Front
John Tyndall
Martin Webster
The virtues of activists: courage, intelligence, and energy
How the Tories insincerely play the race card over and over
The birth of the British National Party
The successes of the BNP in 2009 and 2010
The distinction between the movement and the parties
His reasons for long-term optimism
The decline of the British National Party
Nick Griffin
The courage and dedication of BNP activists and candidates
The tendency of political parties to collapse in the face of election setbacks
Advice to college students
How have white nations acquired hostile elites?
The establishment of the post-World War II order
The necessity of revisionism about World War I and World War II
How the far Left determines the direction of British Politics
It is with sadness that we report the death of nationalist veteran and National Front member, Ron Smith.
After an illness lasting some months, Ron Smith died peacefully at the age of 87. For years Ron had been a stalwart activist on the nationalist scene in the London area. For years he had been a regular at the famous Brick Lane, East London sales pitch, where for years and in all seasons and in all weathers, nationalists of all parties, National Front, BNP, British Movement, Church of the Creator and others, held court and promoted the movement. Ron Smith was always there.
Ron Smith was born and raised in Manchester. He was an intelligent lad and won a place at Stockport Grammar school. But his was an independent spirit, and the life of the scholar or book-worm was not for him. Against his parents' wishes (he informed this writer personally) at the age of 17 he signed up and joined the Army. Fortunately the Second World War had just come to a close, otherwise he might not have survived.
His first posting was to Vienna in Austria, which at that time was occupied by the four victor nations: Great Britain, the USA, France and the Soviet Union. Ron came to admire the Germans: he admired them as brave soldiers and he admired their resilience in defeat. Ron learnt German, and in his last years, his pleasure was reading the German classics, Goethe, Schiller, in the original.
In the 1950s Ron fought in the Korean War, took part in battles, and had mates killed beside him; later Ron's unit was posted to Malaya, with the mission to put down the murderous insurgency organised by Chinese Communist terrorists. Those were tough years for young British soldiers: Ron knew, like his mates knew, that Death could always come calling. On his return to Civvy Street, Ron led a somewhat adventurous life (no details supplied – but his life was not criminal).  In the 1970s he joined the National Front, and the rest is history.
Ron Smith was a really tough and honourable man, and a true and loyal comrade and friend. If you want to know – you who have never met Ron and won't now in this world – if you want to know what Ron Smith looked like, he resembled somewhat the American actor, Steve McQueen. So there. Ron, hopefully, you have now been given your deserved place in Valhalla.
After months of delay and confusion, the Electoral Commission at last re-registered the National Front today, with Kevin Bryan as party chairman.
This means the NF will be able to field candidates at the General Election on May 7th, and at the simultaneous local elections in various parts of Britain – although with the short notice from the Commission, and UKIP riding high, any NF campaign (as with other genuine nationalist parties) will be relatively small scale.
Best of luck to all NF candidates – most especially in Rochdale which might well be the most important NF target.