The Conservative candidate in Hull East – the candidate representing the government of the United Kingdom! – seems to have a basic problem with the democratic process.
She told local newspapers:
"What scares me more is we have the National Front standing.  I am genuinely worried about that and I am thinking of not going on the stage with them for the count, because I feel that strongly about it."
"Because the Electoral Commission has legitimised the National Front, by accepting and approving them as a valid organisation to stand, people think it's OK."
"They think it's legal, so they can vote for them. I don't understand the mentality of anyone who would support a party whose website says, 'This is for white people'."
The April meeting of the London Forum made headlines around the world, with a massive two page article in the Mail on Sunday headlined 'Nazi Invasion of London'.
This was more than a little ironic, given the political proclivities of the Mail's owner Lord Rothermere during the National Socialist era.
If you want to see the reality behing the headlines, here are some videos of the speakers at the notorious meeting targeted by the Mail.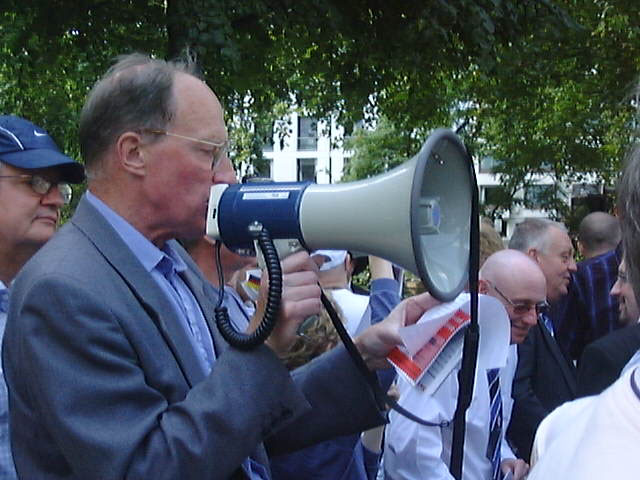 Veteran British nationalist Richard Edmonds was interviewed by Greg Johnson of Counter-Currents during Mr Johnson's recent visit to the UK, where he spoke at a meeting of the London Forum.
You can hear the interview online here.
Topics discussed include:
How Edmonds became racially conscious
The importance of Enoch Powell
His discovery of the National Front
John Tyndall
Martin Webster
The virtues of activists: courage, intelligence, and energy
How the Tories insincerely play the race card over and over
The birth of the British National Party
The successes of the BNP in 2009 and 2010
The distinction between the movement and the parties
His reasons for long-term optimism
The decline of the British National Party
Nick Griffin
The courage and dedication of BNP activists and candidates
The tendency of political parties to collapse in the face of election setbacks
Advice to college students
How have white nations acquired hostile elites?
The establishment of the post-World War II order
The necessity of revisionism about World War I and World War II
How the far Left determines the direction of British Politics
It is with sadness that we report the death of nationalist veteran and National Front member, Ron Smith.
After an illness lasting some months, Ron Smith died peacefully at the age of 87. For years Ron had been a stalwart activist on the nationalist scene in the London area. For years he had been a regular at the famous Brick Lane, East London sales pitch, where for years and in all seasons and in all weathers, nationalists of all parties, National Front, BNP, British Movement, Church of the Creator and others, held court and promoted the movement. Ron Smith was always there.
Ron Smith was born and raised in Manchester. He was an intelligent lad and won a place at Stockport Grammar school. But his was an independent spirit, and the life of the scholar or book-worm was not for him. Against his parents' wishes (he informed this writer personally) at the age of 17 he signed up and joined the Army. Fortunately the Second World War had just come to a close, otherwise he might not have survived.
His first posting was to Vienna in Austria, which at that time was occupied by the four victor nations: Great Britain, the USA, France and the Soviet Union. Ron came to admire the Germans: he admired them as brave soldiers and he admired their resilience in defeat. Ron learnt German, and in his last years, his pleasure was reading the German classics, Goethe, Schiller, in the original.
In the 1950s Ron fought in the Korean War, took part in battles, and had mates killed beside him; later Ron's unit was posted to Malaya, with the mission to put down the murderous insurgency organised by Chinese Communist terrorists. Those were tough years for young British soldiers: Ron knew, like his mates knew, that Death could always come calling. On his return to Civvy Street, Ron led a somewhat adventurous life (no details supplied – but his life was not criminal).  In the 1970s he joined the National Front, and the rest is history.
Ron Smith was a really tough and honourable man, and a true and loyal comrade and friend. If you want to know – you who have never met Ron and won't now in this world – if you want to know what Ron Smith looked like, he resembled somewhat the American actor, Steve McQueen. So there. Ron, hopefully, you have now been given your deserved place in Valhalla.
It is with really great sadness that I have to announce the death of H&D's oldest subscriber – Edward Walter Carr, who passed away peacefully in the early hours of Sunday 29th March, at a nursing home in Worcestershire.
Walter was one of the few remaining nationalists who was active pre-War, with Sir Oswald Mosley's British Union of Fascists (BUF). And like OM he was interned (under the second phase of Defence Regulation 18B) in May 1940 with over a thousand of his Blackshirt comrades.
After World War Two Walter again became active with OM in his post-war Union Movement (UM), and like many in the UM went into the League of St George in the early 1970s.
From the League Walter joined the National Front (NF) but only after John Kingsley Read (whom he did not like – to put it mildly!) had departed to form his rival National Party.
Walter (and his son Michael) soon got an active NF group going in and around the Worcestershire town of Kidderminster.
I was living in Worcester and joined the NF in September 1977 (shortly after the battle of Lewisham and the Ladywood by-election the month before). However there was no NF group (then) in Worcester, so I was invited by the neighbouring Kidderminster group to attend their monthly meeting.
This I did (with another YNF member and ex-school friend Ian Russell), and the rest as they say is history! The meeting was held at a traditional Banks pub – the Corn Exchange – just outside of "Kiddy" town centre.
As 17-year-olds going to our very first political meeting, both Ian and I were a bit apprehensive of who and what we might expect to find as we entered the pub! If memory serves me right, the first person we met as we entered the pub was Walter's son Michael, who warmly greeted us and bought us a pint each of Banks bitter (we did not worry about all that pub ID stuff in those days! – If you looked 18 you got served, end of story).
As we entered the "Snug room" – where the meeting was being held, I met Walter Carr for the first time. He was the group's local NF organiser, and must have been about 59 or 60 then (which at the time seemed ancient to me as a young lad of 17!).
A few weeks later I went on my first NF march which was in the Manchester/Stockport area (the same day as Webster staged his "one man march" through Hyde). I sat by Walter on the coach, and he (and his son Michael) took me under their wing(s) so to speak.
This was the first of many NF marches, demonstrations and rallies up and down the country that I would attend with Walter and Michael Carr, up until the 1979 General election (when I quit). I remember Walter buying a set of three or four sewn union jack flags, complete with brass flag poles, so that he and Michael could go in the flag party at the front of NF marches. When I asked him why he had gone to so much trouble and expense, he said that he had to, as "that as where you picked up all the internal (gossip) on what was really happening inside the NF leadership"!
I remember how shocked I (and many others) were, when travelling by coach to a march in London, Walter suddenly told us that Martin Webster was a "poof" (homosexual) and many other members in London were "queer", and in fact the "queers" had taken control of two key branches (I think Wandsworth in the south and Islington in the north). To say that we were all flabbergasted would have been a massive understatement. I did not think we had any "poofs" in NF as we were meant to be anti-queer. How very wrong I was!
Even though we set up our own Worcester NF group in 1978, I worked quite closely with Walter and his Kidderminster NF group for the next couple of years. Unlike most branches and groups who held monthly meetings, Kidderminster NF held fortnightly meetings. These meetings very rarely had formal speakers, but even so they were still interesting and attracted a wide range of NF members (and other nationalists) from around the West Midlands – not just Worcestershire.
I later realised why. Walter would bring along all sorts of radical publications from both Britain (League Review, NS News and British Patriot) and the USA (The Thunderbolt, White Power and National Vanguard) – all by the way were proscribed by the NF's (then) national activities organiser Martin Webster (who would have had a fit if he had seen them being sold there!).  Walter would do a roaring trade out of his stocky brown briefcase that he would bring along to almost every meeting.
Myself and the other members of course bought copies of Spearhead and NF News, but Walter's publications were a lot more interesting – and racist!
At the infamous 1979 General Election, Walters's group stood two candidates – Albert Luckman in Kidderminster (1052 votes – 1.7%) and Capt. Ray Adshead (who later went on to be the BNP's first West Midlands organiser) in Ludlow (354 votes 0.9%). For a small group this was an excellent effort, but I expect Walter put more than his fare share of pound notes towards the costs.
The general election was a disaster for the NF, who lost all their deposits in the 301 (or 303) seats they contested, and not long after the party split up into four or five factions.  Walter left the NF and joined the faction based mainly in the Midlands, led by Anthony Reed Herbert. It was first called the British Peoples Party (BPP), but soon changed its name to the British Democratic Party (BDP), as Reed Herbert did not want his new moderate party tainted with a name linked to a pre-war "Fascist party" – although I doubt this would have bothered Walter!
The BDP did not last long, and after Reed Herbert was "outed" on a World in Action TV programme (selling/buying guns) – he fled to the Irish Republic, where he stayed for many years.
Walter got back in touch with his former leader John Tyndall, who by then had formed his own party the New National Front (NNF). Walter along with JT's West Midland organiser Keith Axon organised a meeting to launch a Worcestershire NNF, which was held in the Corn Exchange pub (but this time in the much larger upstairs room).
If I remember right, eight of us went from Worcester – in two cars. The room was packed out and everyone seemed keen to get behind JT and the NNF. Like Walter I decided to join the NNF and give it go.
However, as any nationalist who was around in those days will tell you, it was bloody hard work even to keep what you had – let alone make any progress. A few months later the NNF merged with a few other nationalists and formed the British National Party (BNP).
From what I can remember it all started to go wrong after we attended the BNP's "Support the Falklands" St George's Day march in London in April 1982. The turnout was very poor – maybe only 300-400 turned up (however it would get a lot worse, with fewer than 100 turning out the following year). Walter's son Michael and a few other Kiddy members refused to go on the march, due to its small size (remember they were use to attending marches of well over a thousand by the "old NF") and that was it. There was a massive fall out between the local, regional, and national BNP leadership and Kiddy BNP ceased to exist from then on.
Walter had got tired – bored even – of British nationalist politics, and he joined Ben Klassen's World Church of the Creator organisation – which was based in the USA. Walter flew out to North Carolina to meet Klassen and was ordained into his "church". Back in England Walter ordered and distributed hundreds – maybe a thousand copies of Klassen's books "White Man's Bible and Nature's Eternal Religion – many were sent unsolicited to ministers in the Church of England and priests in the Roman Catholic Church!
Walter also went out to Australia, where he had spent much of his boyhood. His parents had "sold up and moved out Down Under" in the mid-1920s for a better life. However, it never worked out that way and less than ten years later Walter was back in the UK. During his second trip to Australia he traced and found the land where he and his parents had lived: it was nothing really more than a few tin huts.
After the BNP won the Millwall by-election in east London in 1993, and both votes and membership started to go up again, Walter decided to have another go at British nationalist politics and rejoined the BNP.
During the June 1999 European Election campaign, Walter did what many called a "marathon loudspeaking tour" of parts of the three Euro constituencies. He and a BNP colleague covered many hundreds of miles, roving from Staffordshire all the way down to the M25 around London – and then back up again shouting "Vote BNP" and other slogans through a loud hailer!
However, not long after the election he fell out with both BNP leader John Tyndall and West Midlands organiser Keith Axon over internal financial matters. The matter could not be resolved and Walter walked away from the BNP.
It was not too long before he returned to the BNP though. After JT lost the leadership election to Nick Griffin in September 1999, lots of things inside the BNP changed. The new pro-Griffin leadership in the West Midlands, Steve and Sharon Edwards and Simon Darby ousted Keith Axon and the few remaining Tydallites. And not long after Walter returned and rejoined the BNP, now under the firm control of Nick Griffin.
It was financial problems within the BNP leadership that caused Walter to walk away from the BNP for the final time almost two years later in 2001. This time it was Nick Griffin himself who was at the centre of the scandal. Walter sided with Steve and Sharon Edwards, Mike Newland and others and quit the BNP in disgust.
I was on the "other side" then, and sided with Griffin. I remember Walter writing to me in America (I was chairman of the American Friends of the BNP then) and urging me to support the rebellion against Griffin. Foolishly I did not listen to Walter and even wrote him a rather stupid letter, stating why he was wrong for going against Griffin and why I was right for supporting Griffin! – Well you live and learn!
Thankfully a few years later (2005) I had the chance to apologize to Walter in person, at the very first JT memorial meeting (in Milton Keynes). I remember Walter referred to what went on at the meeting as "back-slapping", where everybody said what a good fellow JT was and what great people were on the top table – "let's all us congratulate ourselves!"
Anyway, Walter bought a copy of Heritage and Destiny from me at that meeting, and became a subscriber and good supporter of the magazine, right up until his dying day. He often sent me letters, press cuttings and he emailed me hordes of interesting links once he had got the hang of the internet!
He lived in his own house – by himself – in the small town of Powick – near Worcester, almost right up until the end of last year. However after coming out of hospital for the final time, he was deemed too unwell to look after himself. So his son Michael found him a lovely nursing home where he lived out his final months.
I really don't know that much about Walter's long life – 97 years in total. So if any H&D reader can help me fill me in on some of the many large gaps, so a better and much fuller obituary can be published in a future issue of H&D (hard-copy version) it would be very much appreciated. Also does anybody have photos of Walter which they could lend me?
Mark Cotterill
Editor/Publisher – Heritage and Destiny
Well over a hundred nationalists representing several different groups united in Newcastle city centre on Saturday afternoon for the White Man March – asserting that the defence of our culture and our race is about far more than the EU-obsessed or Islam-obsessed agendas that have been so widely promoted.
Among the speakers was H&D assistant editor Peter Rushton: see video below.
While some groups such as the EDL seem proud to display Israeli flags – mocking the sacrifice of those British troops who died fighting against Zionist criminality and oppression more than 60 years ago – the White Man March signalled our rejection of that poisonous influence.
In doing so, demonstrators incurred the wrath of our politically correct police force: several arrests followed the burning of an Israeli flag – which is not a criminal offence in this country.
As police and their political masters struggled to conjure criminal charges, six nationalist comrades from England, Wales and Poland were detained overnight.  The authorities released them (as they were legally obliged in the absence of a superintendent's authority) after 24 hours.
The photograph below shows the released activists, whose clothes were retained by the police as 'evidence' (in reality of course just another form of petty official harassment) – hence the grey clothing issued by their jailers.
They must report back to the police station on May 26th after further 'enquiries' – in fact meaning further political consultations to try to manufacture 'criminal' charges.
H&D will report further on these matters when it is legally possible to do so.
After months of delay and confusion, the Electoral Commission at last re-registered the National Front today, with Kevin Bryan as party chairman.
This means the NF will be able to field candidates at the General Election on May 7th, and at the simultaneous local elections in various parts of Britain – although with the short notice from the Commission, and UKIP riding high, any NF campaign (as with other genuine nationalist parties) will be relatively small scale.
Best of luck to all NF candidates – most especially in Rochdale which might well be the most important NF target.
During recent weeks two of the British nationalist movement's veteran leaders have addressed meetings in Yorkshire and London on aspects of our political crisis.
Richard Edmonds (former BNP national organiser, now with the National Front) addressed the Yorkshire Forum on UKIP's confidence trick: see video below.
Martin Webster (former NF national orgsniser) addressed a nationalist unity meeting in Central London on the need for our movement to accept an accountable, democratic party constitution: see video below.
Demonstration this Saturday – 17th January 2015 – at the U.S. Embassy, Grosvenor Square, London.
Assemble in the square at 1 p.m.
Heritage and Destiny is pleased to announce that long-standing White Nationalist – Will White Williams – has taken over as Chairman of the US-based National Alliance.
H&D editor Mark Cotterill first met Mr Williams's way back in November 1993, when he visited the NA's then new West Virginia Headquarters in Hillsboro, for the first time. Mark and another comrade from Milton Keynes were the very first Brits to visit Dr. Pierce out at Hillsboro, since he moved the NA from its previous Washington DC HQ.
H&D's assistant editor Peter Rushton worked with Mr Williams in organising Dr. Pierce's successful visit to England in 1995, when he addressed the BNP's annual rally (even though he had been banned from entering the UK!).
Mr Williams replaces the disgraced former NA Chairman Erich Gliebe – a close friend of the BNP's former Chairman Nick Griffin. Both Gliebe and Griffin almost destroyed the NA and BNP and turned them from being two of the most successful White nationalist groups in the world, to barely more than a laughing stock. Griffin was removed as BNP chairman earlier this year, and expelled from the party a couple of months later.
With the removal of both Gliebe and Griffin, White nationalists on both sides of the pond can for the first time in many years look forward to the New Year with hope and optimism.
H&D wishes Will Williams all the very best in rebuilding the National Alliance and we will keep readers informed of their progress.
Below is a statement from the new chairman of the National Alliance.
To update the situation with the National Alliance in the United States, I'm pleased to announce to H&D readers some recent developments.
As a result of a lawsuit that was brought against Chairman Erich Gliebe a year or so ago for malfeasance and gross mismanagement by six of his former Alliance members, Mr. Gliebe recently decided to resign and name me the new Chairman, with the approval of the board of directors. I have inherited an organization with more than 90 percent fewer members than when its founder, Dr. William L. Pierce, died in 2002. Yet I see our glass as half-full. We get a fresh start and a clean slate, beginning hopefully where Dr. Pierce left off.
I had arguably been Mr. Gliebe's harshest critic for over a decade when those who sued him finally came around to see the light and agreed with my criticisms of his incapable governance. It is well documented that since 2003 I had been calling for Gliebe to step down and turn the Alliance back over to the board of directors that Dr. Pierce had appointed to guide the Alliance after his passing.
Unfortunately for the plaintiffs, they thought if they could spend enough money the court would just turn the National Alliance over to them. That is not going to happen.
Mr. Gliebe met the plaintiffs' explicit demands to step down as Alliance chairman and to name a successor. Now it is I who have become the target of this group of six erstwhile Alliance members' criticism. Neither I nor the National Alliance are defendants in their suit. I'm interested to know how they think they will remove the legally appointed Alliance Chairman and seize control of Alliance assets for themselves; they say they will, but all I've been hearing from them is how sour their grapes are. Those plaintiffs collected upwards of $25,000 which they paid to their attorney — who is not "one of us," by the way — while saying they were willing to raise and pay $25,000 more to unseat Gliebe, and now me. What a waste of precious funds. I, on the other hand, have spent an equal amount of my own savings to pay down the Alliance's considerable debt, stabilize things, and preserve what Dr. Pierce left to us.
We have the best foundation in place to rebuild on. Soon people will be able to download a National Alliance membership application on www.natall.com and mail it to me for consideration. We are rebuilding that site and www.natvan.com presently. We have maintained www.nationalvanguard.org where later this month (December, 2014) you can listen to our 52nd American Dissident Voices broadcast in as many weeks. Has it been a year already since we launched this primary pillar of our outreach?
When I'd heard in February of 2014 that Gliebe was selling off assets, particularly Dr. Pierce's research library, to raise funds to fight off the legal challenge, I was so alarmed that I contacted him for the first time in nearly 12 years and began negotiations to purchase the library myself. If I could buy it, this library would become a major building block in the new National Alliance organization — separate, then, from Mr. Gliebe's failed rump organization — that I described in a letter to the editor in H&D Issue 6 (July/August). That treasured library is now secure and is being expanded, and will remain with the National Alliance — the one Dr. Pierce founded — in perpetuity.
(H&D readers wishing to contact Will Williams and/or the National Alliance, should email – Chairman@natall.com – or write – National Alliance, PO Box 172, Laurel Bloomery, TN 37680, USA.)